Natural casings: Palacios and Van Hessen
What do you do when you are very good at making chorizos? Right! You make more of them, but you also want to ensure that in the process the recipe is applied with quality and consistency because that's what the customers expect. For both quantity and quality, Van Hessen proved to be the right partner for Palacios, a Spanish company, whose chorizos are world-famous. The company also produces fresh pizzas – some 60 million annually – and cakes. Recently, Palacios has begun to successfully bring the famous Spanish omelet to the market. Let's Meat spoke with Manuel Alonso of Palacios and Van Hessen's Eward Vermeulen about the chorizo and the balance between tradition and innovation.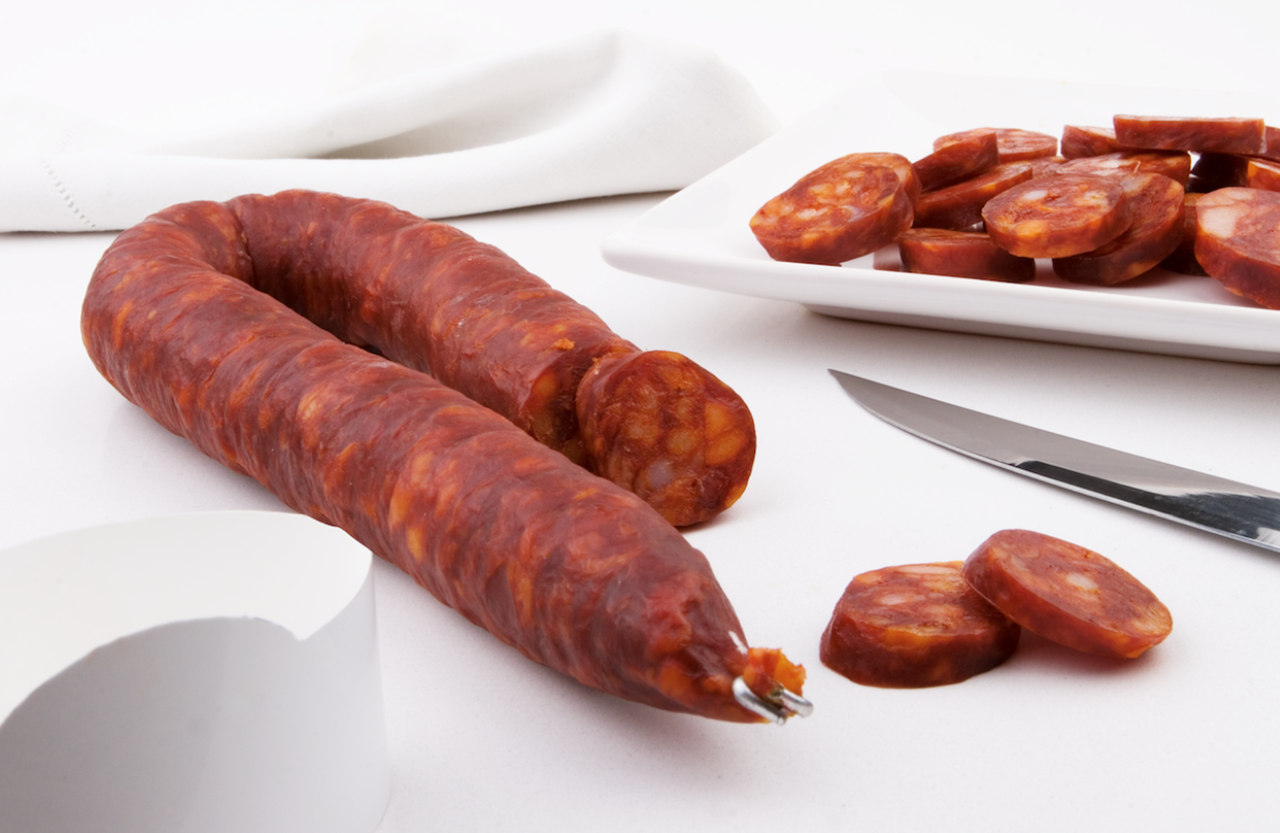 "In Spain we are involved in all activities that Van Hessen engages in except for selection. For me, it all started with the sales of natural casings" says Eward Vermeulen, Managing Director of Van Hessen in Spain, in conversation with Manuel Alonso, responsible for purchasing all meat-related products at Palacios. The topic of discussion is the chorizo, the pride of the Spanish company. The collaboration between Van Hessen and Palacios has a history that goes back to 2005 when the first natural casings were supplied to Palacios. "Since I started here, we have grown exponentially in terms of the hanks that we supply," says Eward. "We make a lot of chorizos and for most Van Hessen is the supplier," adds Manuel. "It may be true that Van Hessen only supplies casings to us, yet the collaboration is very important because of the large quantities as well as our need for consistent quality." Manuel explains that the chorizo is a dry sausage that, as far as Palacios is concerned, only consists of natural ingredients: pork, smoked paprika powder, salt and . . . natural casing. "We actually need around 60,000 meters of casing per day. Yes, really," laughs Manuel. "But at the same time, the consumer expects that the chorizo we make is characterized by a uniform diameter. Especially with this dry sausage, this is very important. The chorizo is a traditional product that needs to stay the way it's always been."
"In order to supply this combination of high production volume and strict measuring, we had to go for longer casings. However, as soon as you attempt to do that, you also get a greater variance in diameter. We came up with an innovative solution," says Eward, "in which we cut the one standard caliber in two so that we ended up with two new standard- conforming calibers. This way we can combine the longer strands with the right calibers so that customers get the same uniform calibers that they always have been used to.
"Manuel nods in agreement: "This is how we solved the tension between the need for longer ends and the strict requirements with regard to diameter. Van Hessen even came to look at our production process to understand our needs. Not all suppliers are able or willing to do this. For this reason, Van Hessen is the trustworthy partner that we can rely on." Innovation and tradition go together very well and even need each other. Van Hessen's drive toward innovation contributes to the increasing popularity of the traditional chorizo of Palacios. As they are talking, Manuel and Eward suddenly realize that another tradition has unintentionally been sidelined. They haven't met for the longest time; they are going to do something about that.