Corkboard
The Van Hessen traineeship is one of a kind and provides in-company training in the specialisms of Van Hessen for new management- level employees. At this moment we have nine trainees in the training program. Here we would like to introduce them to you.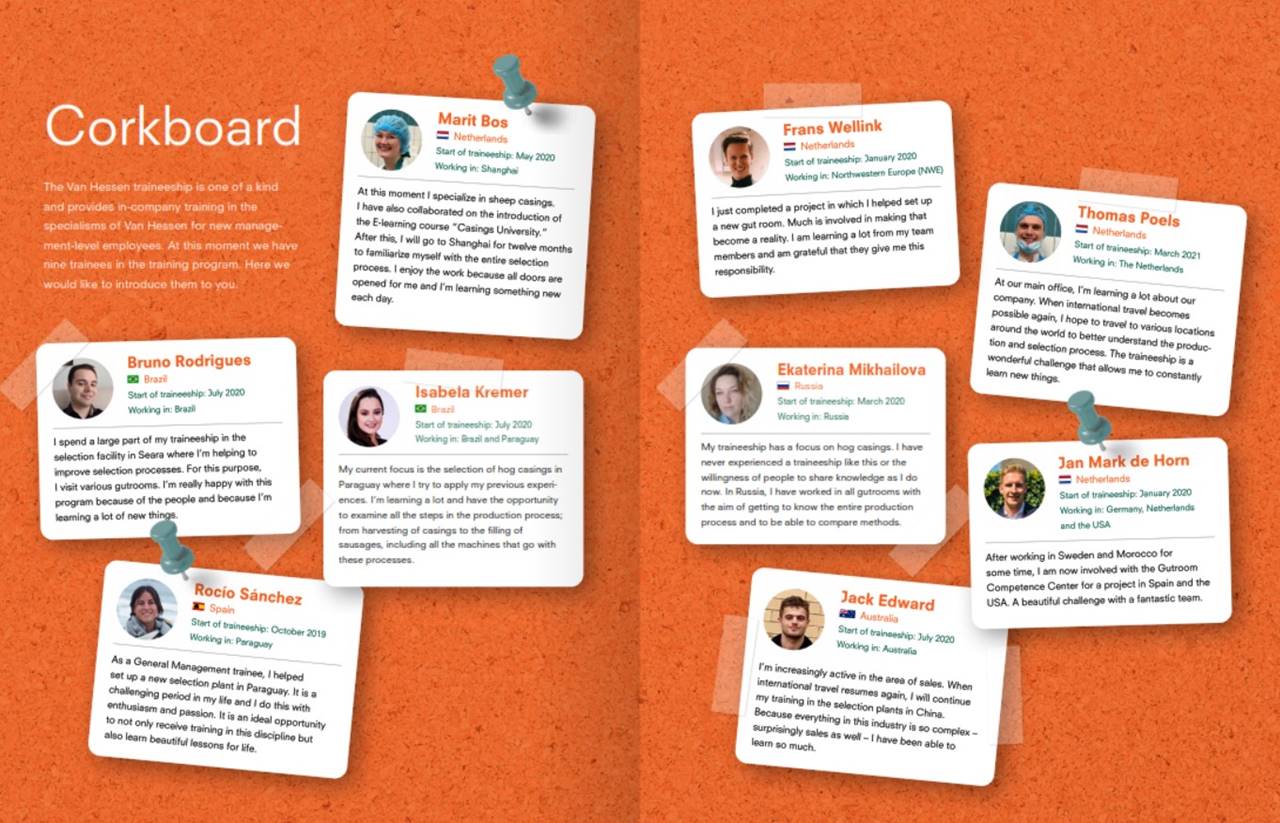 Marit Bos
Netherlands
Start of traineeship: May 2020
Working in: Shanghai

At this moment I specialize in sheep casings. I have also collaborated on the introduction of the E-learning course "Casings University." After this, I will go to Shanghai for twelve months to familiarize myself with the entire selection process. I enjoy the work because all doors are opened for me and I'm learning something new each day.
Bruno Rodrigues
Brazil
Start of traineeship: July 2020
Working in: Brazil
I spend a large part of my traineeship in the selection facility in Seara where I'm helping to improve selection processes. For this purpose, I visit various gutrooms. I'm really happy with this program because of the people and because I'm learning a lot of new things.
Ekaterina Mikhailova
Russia
Start of traineeship: March 2020
Working in: Russia
My traineeship has a focus on hog casings. I have never experienced a traineeship like this or the willingness of people to share knowledge as I do now. In Russia, I have worked in all gutrooms with the aim of getting to know the entire production process and to be able to compare methods.
Frans Wellink
Netherlands
Start of traineeship: January 2020
Working in: Northwestern Europe (NWE)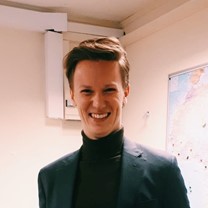 I just completed a project in which I helped set up a new gut room. Much is involved in making that become a reality. I am learning a lot from my team members and am grateful that they give me this responsibility.
Rocío Sánchez
Spain
Start of traineeship: October 2019
Working in: Paraguay
As a General Management trainee, I helped set up a new selection plant in Paraguay. It is a challenging period in my life and I do this with enthusiasm and passion. It is an ideal opportunity to not only receive training in this discipline but also learn beautiful lessons for life.
Jack Edward
Australia
Start of traineeship: July 2020
Working in: Australia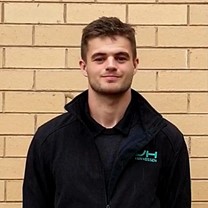 I'm increasingly active in the area of sales. When international travel resumes again, I will continue my training in the selection plants in China. Because everything in this industry is so complex – surprisingly sales as well – I have been able to learn so much.
Isabela Kremer
Brazil
Start of traineeship: July 2020
Working in: Brazil and Paraguay
My current focus is the selection of hog casings in Paraguay where I try to apply my previous experiences. I'm learning a lot and have the opportunity to examine all the steps in the production process; from harvesting of casings to the filling of sausages, including all the machines that go with these processes.
Thomas Poels
Netherlands
Start of traineeship: March 2021
Working in: The Netherlands
At our main office, I'm learning a lot about our company. When international travel becomes possible again, I hope to travel to various locations around the world to better understand the production and selection process. The traineeship is a wonderful challenge that allows me to constantly learn new things.
Jan Mark de Horn
Netherlands
Start of traineeship: January 2020
Working in: Germany, Netherlands and the USA
After working in Sweden and Morocco for some time, I am now involved with the Gutroom Competence Center for a project in Spain and the USA. A beautiful challenge with a fantastic team.